Phonics at Shakespeare
Phonics is a way of teaching children how to read and write.
At Shakespeare Primary School we follow the programme 'Letters and Sounds' to teach children how to read and write.Phonics 

Phonics is of high importance at Shakespeare Primary School. Consistent, effective teaching of phonics is delivered daily across Foundation Stage, Key Stage One and into lower Key Stage Two, to support children to become confident readers and spellers. There are robust assessments in place and targeted 1:1 interventions to support children with their phonics. We place a high priority on children applying their phonics into reading and have phonic books to support children to apply what they have learnt.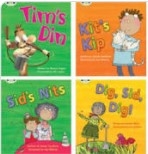 To further support you to understand how we teach your child to read and write through phonics there is further support below.
To find out how phonics is taught please click on the 'Parent Guide' here.
There are also videos to show how different letters make different sounds.
Click on the links below to look at the different phases.