Reading Excellence from the Heart of Leeds
Reading together at home is one of the easiest but most important ways in which you can help your child. As you share books you are helping improve your child's reading skills and also showing them how important and enjoyable reading is and help them become lifelong readers.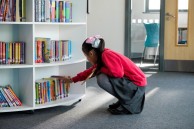 Click here for a range of activities that can support your child in reading at home.
"Reading suffuses the life of the school." OFSTED