E-safety
What is e-safety?
E-safety is about beng safe when you are using the Internet and digital technologies such as:
Computers
Tablets
Mobile Phones
Games consoles (Xbox, Playstation etc)
Internet-enabled TVs
Wireless technology. 
All of these things are fantastic tools for learning and fun - but it's really important to be safe online.
At Shakespeare, we want all our children to be SMART:
Safe

- Don't give out any personal details such as your name, address, school, contact details (phone, email etc) or send photos to anyone you chat to online.

Meeting

- Meeting someone you've only spoken to online can be dangerous. If you do decide to meet someone, make sure your parents or carers know, and even then only when they can come with you. NEVER meet someone you don't know alone.

Accepting

- Accepting files you receive via the internet from someone you don't know, or which have a name that doesn't seem quite right can lead to problems - they may contain viruses or nasty messages.

Reliable

- Not all information you read on the internet is true, and not everybody tells the truth about who they are or what they are doing. If you're at all unsure, ask an adult for help.

Tell

- If anything online makes you feel sad, scared or uncomfortable, tell an adult. It's also really important to tell an adult if you think someone you know is being bullied online.
DB Primary
Our DB Primary page is a safe online community where children from Shakespeare can complete homework, learning activities and communicate with other children at school. We want all our children to feel safe and happy whilst using DB Primary.
If you see, read or receive anything on DB Primary that makes you feel unhappy or scared, you can click the golden whilstle button in the top corner of the page (there's a picture just below). This will send a message to your class teacher letting them know that something isn't right. Your teacher can then investigate and make sure everyone is safe. The golden whistle can be used whenever you need it - but please don't use it just to send your teacher a message saying 'Hi!'
Remember - NEVER give out your passwords for DB Primary, TTRS or anything else to anyone - even your friends!
If you have any worries or concerns about e-safety talk to your teacher
---
---
Reporting issues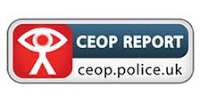 If you find something online that has made you or a friend feel worried or unsafe make a report on CEOP
---
---
Useful Links
Learn about online safety when using blogs, chatting, online gaming, P2P and other forms of technology like mobiles.

 

How to become responsible DIGItal citiZENS. 

 

 

The latest esafety tips, advice and resources to help you stay safe online.

 

Childnet International provides resources on how to keep safe online.

 

 

ChildLine gives help and advice about a wide range of issues, including cyber bullying. You can talk to a counsellor online, send ChildLine an email or post on their message boards.